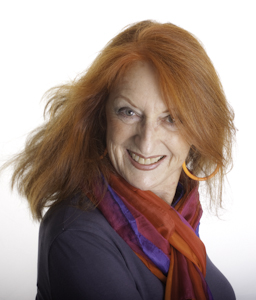 WENDY BOYD is a graduate of the Royal College of Art in London, Wimbledon School of Art and the University of London. She specialised in the designing and making of stained glass windows, painted and fired glass and glass mosaic and has executed stained glass commissions for both churches and private homes. Now she works in acrylic and soft pastel.
For the past several years she has specialised in creating mosaics out of acrylic. She makes her own coloured "tiles" with layers of acrylic paints and gels, cuts them into the required shapes with scissors and embeds the pieces into another acrylic gel which acts as a both a glue and a grouting. The finished work resembles ceramic mosaics. It is a time-consuming process. She received an award for one of her mosaics at a Society of Canadian Artists Open Juried Show at Todmorden Mill Museum Paper Mill Gallery, Toronto. One of her special interests is finding new ways of using familiar materials combined with experimenting with new materials. Her recent interest is in the use and application of metallic colours and working three-dimensionally combining papier-mâché and acrylic mosaic.

She started her art teaching career in Bermuda. In 1976 she emigrated to Canada to teach at Georgian College in Barrie, Ontario. Then she taught at Sheridan College, Oakville, in the Department of Illustration for several years. She has also taught at the International Academy of Design (now closed) and Humber College in Toronto.

Wendy is an elected member of the Ontario Society of Artists and the Society of Canadian Artists. In 2005 she obtained Signature Status (work accepted into three juried shows) with Pastel Artists Canada. She is also a member of the Arts and Letters Club of Toronto where she runs the Friday life-drawing and painting sessions and has served on the Art Committee.

When she is not in her studio, Wendy sings in a church choir, performs with St. Anne's Music and Drama Society's Gilbert and Sullivan group, and plays badminton and tennis. Her studio is at Wiltshire Place (Dupont and Symington) in Toronto.

Her work is in many private collections and also the Government of Ontario Art Collection.